Biography, Reviews & CV
The ancient relationship between man, horse and the elements. This is the recurring theme throughout the work of Jo Taylor. Her work echoes the classical and renaissance masters as she celebrates the beauty of the beast whilst exploring how our world has evolved through theirs.
Rigorous life drawing and patient observation are the starting points for these visually arresting works. It is through watching, drawing and riding horses that Jo Taylor captures a sense of their power and presence. Like her influences Leonardo and Gericault, Jo is attracted to the expressive body of animals.
As explained by Jane Wheatley of The Times
"Jo does a lot of watching horses; in racing stables and on windy gallops, in the Camargue marshes and at Portuguese Horse Fairs, out in Montana cattle country and on the South African plains. Watching looking, making sketches, remembering the lift of a hoof, the curve of a neck, the line of a muscle."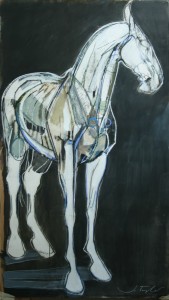 "Jo works in a variety of media on a large unrestricted scale and her style is deliberately abstract with a bold use of colour. Her organic palette is scoured from the immediate landscape and the elements, reminiscent of the work of Prunella Clough and Graham Sutherland. Through her materials she describes muscle tensions and structures, which she was able to study during her residency at the Department of Veterinary Science at Liverpool University. This left Jo with an exceptional knowledge and understanding of animal physiology, leading The Times Art Critic Rachel Campbell Johnson to liken her use of anatomy to Stubbs."
"These insights give Jo Taylor an understanding that is translated into paintings which contain a sculptural dynamism where the essence of the horse is exposed."
CV
1969 Born Lancashire
1989 – 1991 Leeds Metropolitan University
Artist in Residence – The University of Liverpool, Department of Veterinary Science.
Solo Exhibitions
2012 – The Jockey Club
2012 – The Victoria Gallery & Museum, Liverpool
2010 – 2013 Lena Boyle Fine Art, London
2002 – 2012 Campden Gallery, Gloucestershire
2001 – 2015 Thompsons Gallery, London
The National Horseracing Museum, Newmarket
Selected Group Exhibitions
The Royal Academy, London
Cross Gate Gallery, Lexington, Kentucky, USA
Showcase Gallery, Dubai
Courcoux & Courcoux, Hampshire
Thompsons Gallery, London
The London Art Fair
The National Print Exhibition
Art London
Beaux Arts, Bath
Collections
Andrew & Anna Lisa Balding
The Duke & Duchess of Bedford
The King Ranch, Texas
Liverpool University
Claibourne Stud, Kentucky
Alan King
The Duke & Duchess of Westminster
Nicky Henderson
The Earl Cadogan
Dalham Hall Stud, Suffolk
Plantation Stud, Suffolk
The National Centre for Zoonotic Research
Media
The Observer
The Times
Channel 4 Racing
At The Races
Horse & Hound
Country Life
Racing Post